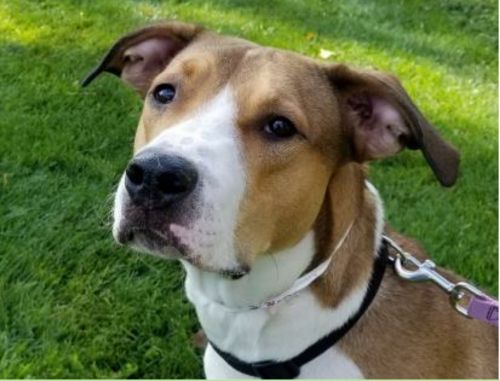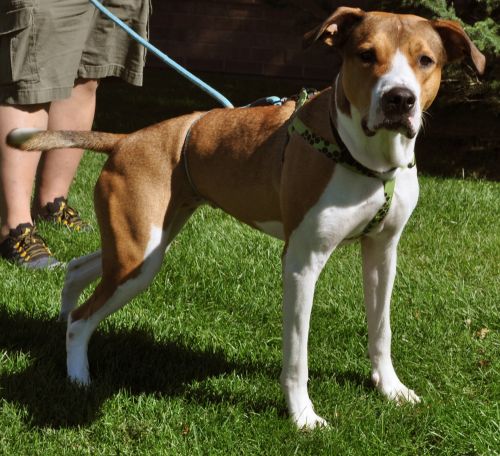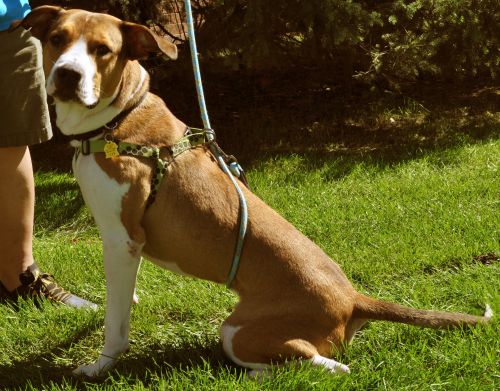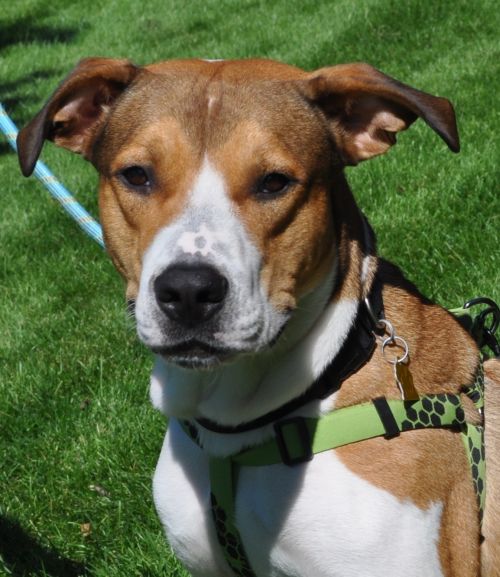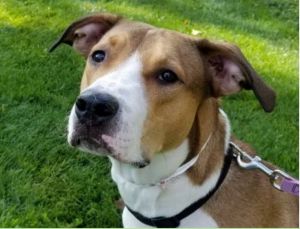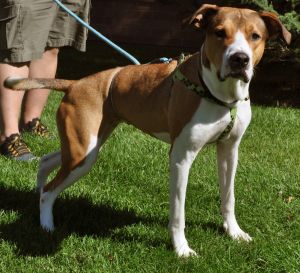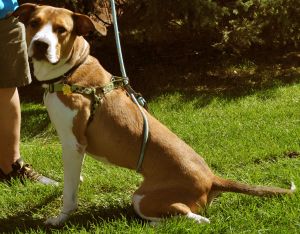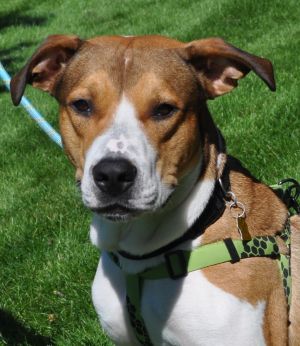 Bomber
Greater Swiss Mountain Dog
Labrador Retriever
Bomber is two years old and weighs 75 pounds. He came to us because he was scared in a shelter environment and not doing well there. He was surrendered to the shelter because of his size and energy, he was knocking over a 3 year old in the home. Otherwise, Bomber is good with kids. We would recommend him with kids 8-10 and up due to him knocking over little ones and his overall strength. He is housetrained and kennel trained, and he is very smart and knows sit, down, shake, drop, no, fetch, and he loves to play fetch. He does still jump up at times. All dogs could have a couple accidents when moving into a new house and a new routine, so a refresher is always suggested.

Bomber is very strong on a leash, so we would recommend walking him using a gentle leader head collar to help work on the pulling. Bomber is good with other dogs and likes to play, he has done well at the dog park before as well,

Bomber can be protective of his food around other dogs so he needs to be fed separately or in a kennel and high value treats are monitored closely. If Bomber is in a home with other dogs, he should be kenneled or fed in a separate room until all pets in the home have eaten, and all bowls have been completely put away. Any high value treats or chews should be fed only if Bomber is kenneled.

Bomber will do best with an active family and a fenced in yard. With his size, there is a chance he could jump shorter fences, so he should never be left unattended out in a fenced area in case he finds something more interesting to do. He cannot have free roam outside - he will not stay on his property. He is currently fostered in a 6 foot wood privacy fence and does well.

He is very food motivated which is great for training and he is microchipped, neutered, and current on all of his vaccinations.

Adoption fee is $275 (no checks)

Foster to contact - Katie 605-695-5126 or kit_n_caboodle22@hotmail.com

This dog will be at our adoption event on Saturday at the Woodbury PetSmart from 11am-3pm waiting to meet you!


Our fosters do the best they can to provide all information about the animal's background and temperament while in foster care in their home. An adopters routine and home environment is likely going to be different than that in their foster home.

Sometimes there is more that comes out about a dog's personality once they have been able to settle in a home and truly become comfortable. There are great articles out there written about the different stages a pet goes through after adoption, discussing transitions that happen at 3 days, 3 weeks, and 3 months. We highly recommend reading about this - it will help you understand the transition your new pet goes through.
Powered by PetfinderTM