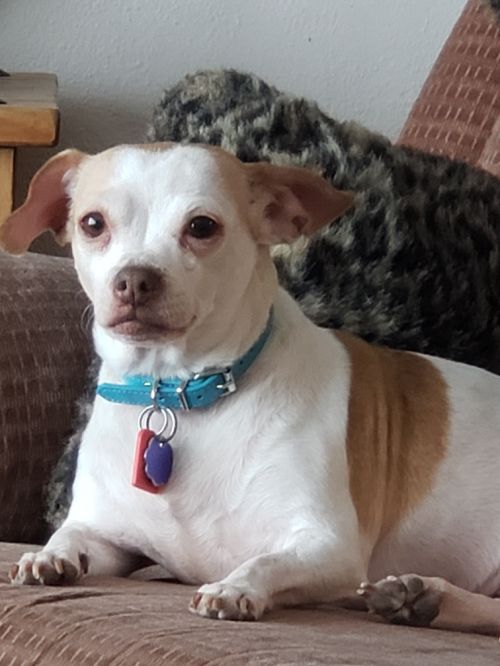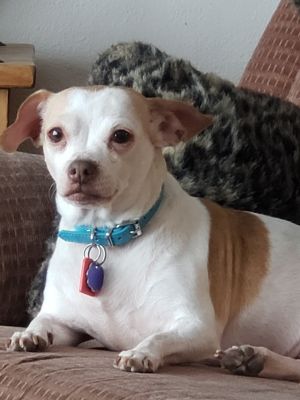 Opal
Opal is a 4 year old chihuahua terrier mix who is originally from Texas. She weighs about 12 pounds. She has been treated for heartworm and is beginning to look for a home of her own. Her new family needs to keep her on heartworm preventative ($6-$7 per month) for the rest of her life. Going through the treatment is very hard, and she wants to never be put in that position again.

She can take a little bit of time to warm up, but once she knows you, she loves you to pieces. She likes a little time to get to know new people, so best in a home where visitors will give her some space when they first meet her.

She will potty outside some, but she also has puppy pad training and isn't the biggest fan of going out in the cold. Opal does fine for nail trims but she isn't the biggest fan of being at the vets office to have stuff done, but with an understanding vet, all is good.

She is good with other dogs and pretty low energy and loves to lay around. She would do best with kids 10 and up who are used to chihuahua personalities.

She is a wonderful little girl!

Adoption fee is $350.00 (no checks) The adoption fee will be reduced by $100 through June 1st in honor of National Rescue Dog Day!

Foster to contact: Katie - 605-695-5126 (text preferred) or krkallemeyn@hotmail.com

Opal will be at our adoption event on Saturday at the Woodbury Petsmart from 11-2pm looking for a home!

Our fosters do the best they can to provide all information about the animal's background and temperament while in foster care in their home. An adopters routine and home environment is likely going to be different than that in their foster home.

Sometimes there is more that comes out about a dog's personality once they have been able to settle in a home and truly become comfortable. There are great articles out there written about the different stages a pet goes through after adoption, discussing transitions that happen at 3 days, 3 weeks, and 3 months. We highly recommend reading about this - it will help you understand the transition your new pet goes through.
Powered by PetfinderTM