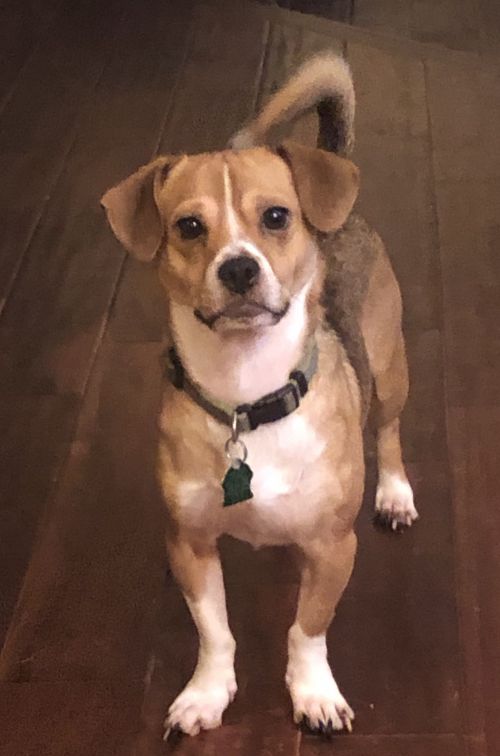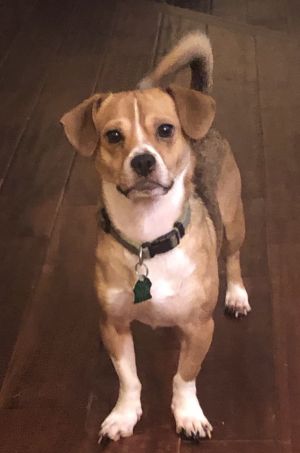 Kenny
If you are interested in any of the dogs available at New Leash Rescue, you can reach out to the foster listed below for more information and then complete an adoption application which can be found at https://www.newleashrescue.org/adopt/policy. Please email the completed application to newleashrescue2018@gmail.com

Meet Kenny...a 1-2 year old beagle mix (long body, low rider with an underbite).  Kenny was surrendered by a family who was moving, and he was terribly frightened in the shelter.  Oftentimes a frightened dog in the shelter relaxes in home foster care, but Kenny took longer than most and would run and hide.  We have been celebrating his progress in baby steps.  He is finally looking happy and alert, tolerating eye contact, and wagging his tail.  He takes his cues from the other dogs, and he now runs up to his foster mom with the pack to greet her and touches his nose to her hand.  He understands "kennel up" for meal time and enters his crate on his own with encouragement (the edible kind).  He loves treats and is just starting to take them by hand.  Kenny is conflicted about touch, as he is not keen to be handled, yet he seems to enjoy a little bit of scratching and petting now when he is in his crate.  He does not go outside yet, as he is a very high flight risk, and he is making nice progress with pad training.  True to his breed, Kenny can be vocal, so he is not an apartment dog.  He is a delightful boy who needs a patient, understanding, experienced adopter who is willing to meet him where he is at now.  He would thrive in a quieter environment with at least one other dog companion and needs a fenced in yard.  

Adoption fee is $350.00 + tax (no checks)

Foster to contact: Sara - 651-260-3774 or sara.fostermom@gmail.com

This dog will not be at our adoption event at the Woodbury PetSmart on Saturday from 11-2, so contact his foster to learn more.

Our fosters do the best they can to provide all information about the animal's background and temperament while in foster care in their home. An adopters routine and home environment is likely going to be different than that in their foster home.

Sometimes there is more that comes out about a dog's personality once they have been able to settle in a home and truly become comfortable. There are great articles out there written about the different stages a pet goes through after adoption, discussing transitions that happen at 3 days, 3 weeks, and 3 months. We highly recommend reading about this - it will help you understand the transition your new pet goes through.
Powered by PetfinderTM