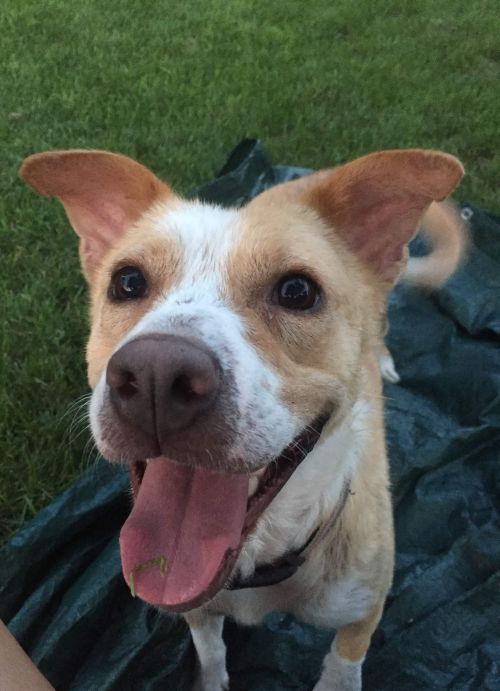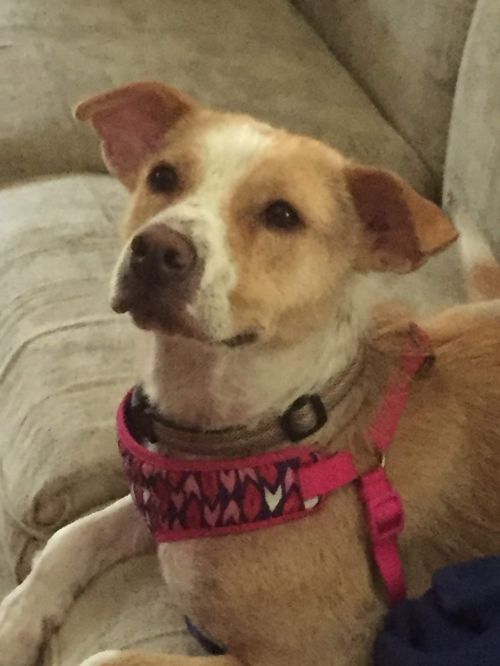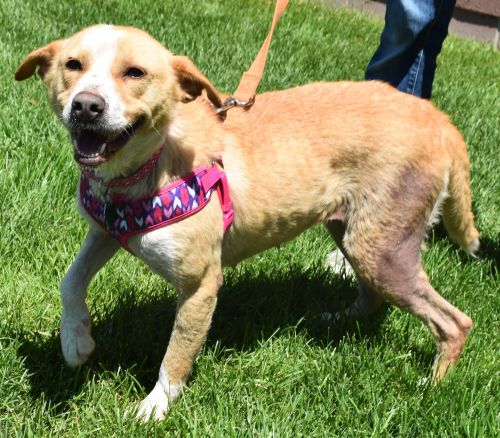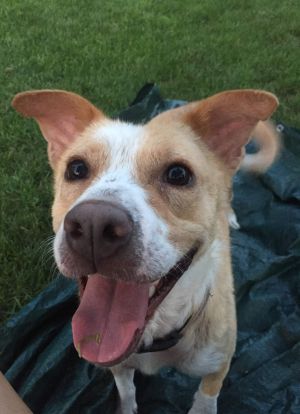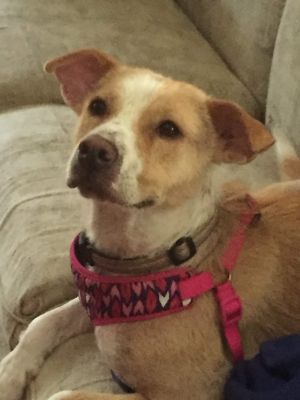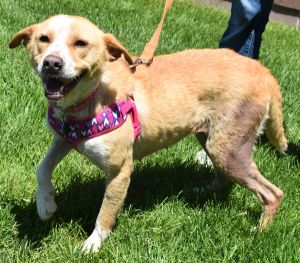 Peaches
If you are interested in any of the dogs available at New Leash Rescue, you can reach out to the foster listed below for more information and then complete an adoption application which can be found at https://www.newleashrescue.org/adopt/policy. Please email the completed application to newleashrescue2018@gmail.com

Peaches came from an overcrowded shelter where she had been for many months. She has settled into her foster home very nicely is is very loved by all the humans in the family. She wants to show affection and frequently give kisses to her people, so she needs family that is okay with that.

Peaches is a very sweet and wonderful dog. One of her favorite activities is taking the stuffing out of toys, so she will do better with more durable toys.

She loves to run, chase after tennis balls and frisbees. We are currently working on leash manners. She will not bark or pull when seeing other dogs during walks unless they start barking. She is not very vocal overall at home. Boy, does she get excited when she sees a squirrel though.. She also loves car rides.

She's housebroken and has great energy. She loves running zoomies in the back yard but also loves to just settle down and lay with you on the couch. She is playful and a good overall medium to medium high energy.

She gets along great with the cats in the house. She pretty much ignores them. Sometimes she tries to play with them but they don't want to play with her, and she's okay with that.

Peaches doesn't do well with children and needs time and patience to warm up to even teenage kids. With time and patience,she has learned to love and trust the human teens in her foster home.

She also needs an appropriate introduction to other dogs. She loves her foster brother but seems to be a bit reactive to the dogs at the adoption events as those events are rather stressful for her. She would do best meeting other dogs outside of an adoption event.

She is a great listener and will make a family very happy. 

Peaches is spayed, up to date on vaccinations, and heartworm tested negative. She is also microchipped, dewormed, and on preventatives.

She's a great girl who will make a wonderful addition to a family!

Adoption fee is $300 + tax (no checks)

Foster to contact: Heike - heikewhite@yahoo.com or 612-513-5510

Peaches will be at our adoption event at the Woodbury PetSmart on Saturday from 11-2pm waiting to meet you!

Our fosters do the best they can to provide all information about the animal's background and temperament while in foster care in their home. An adopters routine and home environment is likely going to be different than that in their foster home. Sometimes there is more that comes out about a dog's personality once they have been able to settle in a home and truly become comfortable.

There are great articles out there written about the different stages a pet goes through after adoption, discussing transitions that happen at 3 days, 3 weeks, and 3 months. We highly recommend reading about this - it will help you understand the transition your new pet goes through.
Powered by PetfinderTM