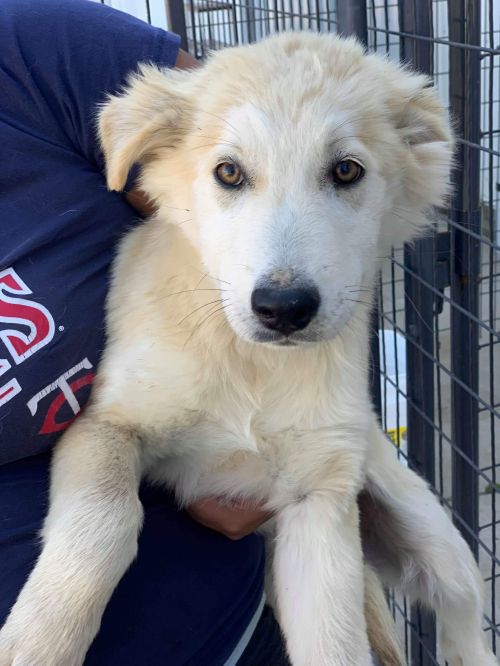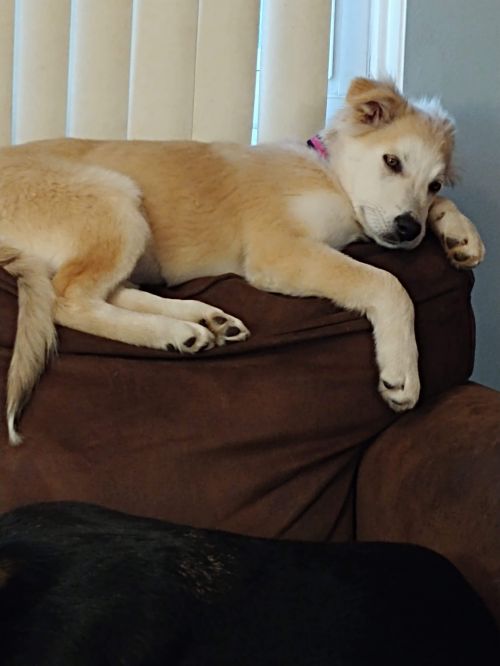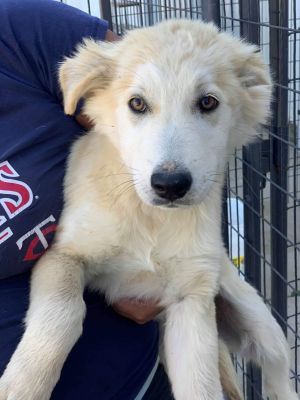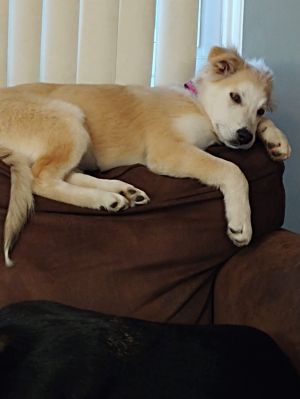 Bandi
If you are interested in any of the dogs available at New Leash Rescue, you can reach out to the foster listed below for more information and then complete an adoption application which can be found at https://www.newleashrescue.org/adopt/policy. Please email the completed application to newleashrescue2018@gmail.com

Bandi is a 5 month old Husky/Great Pyrenees mix (breed is an estimate based off appearance) who came to us from a reservation as part of an accidental litter. Bandi weighs close to 30 pounds right now and will probably be at least 60-70 pounds full grown.

She will need a family who is committed to all of the usual puppy training. She will need work on house training and crate training as well as basic obedience. Bandi has a thicker coat and will need a family that will do some regular grooming (baths/brushing) to reduce matts and keep any shedding minimized. Bandi is not recommended for apartment living due to her size and energy level. She requires a fenced in yard.

Bandi is a shyer pup and needs to be adopted into a home with at least one other dog who can help show her the ropes to come out of her shell. She will do best with kids ages 9 and up. Energetic young kids will scare her.

Adoption fee is $450 + tax (no checks)

Foster to contact: Darla - foliagepeeps@yahoo.com or 612.202.5423

Please contact the foster if you are interested in learning more about this pup. An approved adoption application is needed for any meet and greets.

Our fosters do the best they can to provide all information about the animal's background and temperament while in foster care in their home. An adopters routine and home environment is likely going to be different than that in their foster home.

Sometimes there is more that comes out about a dog's personality once they have been able to settle in a home and truly become comfortable. There are great articles out there written about the different stages a pet goes through after adoption, discussing transitions that happen at 3 days, 3 weeks, and 3 months. We highly recommend reading about this - it will help you understand the transition your new pet goes through.
Powered by PetfinderTM