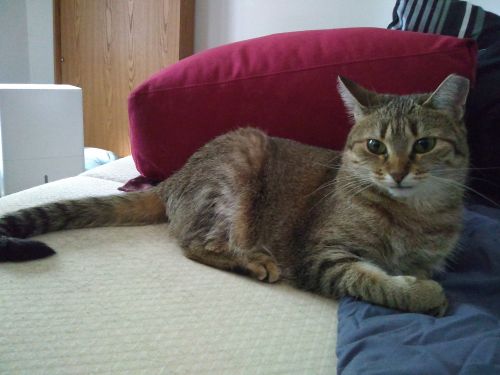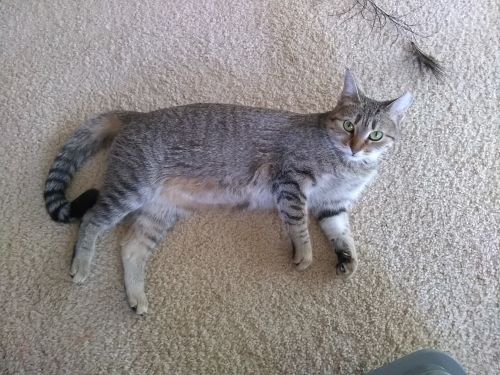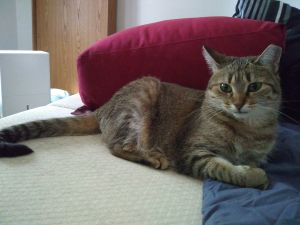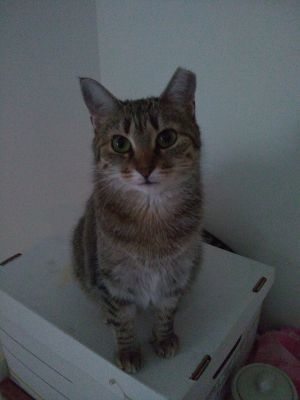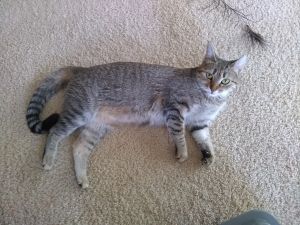 Chloe
If you are interested in any of the cats available at New Leash Rescue, you can reach out to the foster listed below for more information and then complete an adoption application which can be found at https://www.newleashrescue.org/adopt/policy. Please email the completed application to newleashrescue2018@gmail.com

Chloe is a Tabby, is a little over 3 years old and weighs a little under 8 pounds. She is a petite girl. She would likely do best in a home without young kids. She came to us from a local shelter, where she had been surrendered, but was not doing well in a shelter environment. The notes from her surrender say in her previous home there were young kids that would pester her, so she would react and defend herself by swatting and scratching.

In her foster home, Chloe emanates sweetness. She is shy until she knows she can trust you and then she is all love. It will take her a few days to adjust to a new home (she will hide). She loves to snuggle, but has not chosen to sleep with her foster mama yet (she has only had a few chances so far.) She prefers petting and cuddling to interactive play. Since she came to rescue she eats special diet as she had vomiting problems in her past home. These problems have gone away with her current food. Rescue vet notes state they suspect the vomiting in the home was secondary to stress. So she may be able to transition back to regular food, but needs someone committed to getting her the food that ends up being best for her.

She really likes meal time; supervises the preparation stage closely and eats immediately and eagerly. She was very scared in a foster home that had loud and active dogs. She has met a gentle cat-friendly dog once in her current foster home and she was scared of him, too. Her current foster mom plans to keep testing and exposing her. Chloe might come around with careful exposure. She was initially not welcoming to her foster cat brother, but their 2nd exposure to each other went much better. She was curious, rather than defensive. So she might adjust to another friendly cat with careful exposure.

Chloe has a unique interpretation of playing with soft cat toy balls- she tears them apart within a day. She has not shown the desire to survey the world from high places. But she does need her safe hiding places. She startles somewhat easily. She recovered from vacuuming day pretty quickly, however she refused to come out of her room the time foster mama had the stereo on (classical music). She is fastidious regarding her litter box.


Adoption fee is $150 + tax (no checks)

Foster to contact: Heidi @ hmhuber@gmail.com or 612-860-4857

Please contact Chloe's foster to learn more about her.

Our fosters do the best they can to provide all information about the animal's background and temperament while in foster care in their home. An adopters routine and home environment is likely going to be different than that in their foster home.

Sometimes there is more that comes out about an animals personality once they have been able to settle in a home and truly become comfortable. There are great articles out there written about the different stages a pet goes through after adoption, discussing transitions that happen at 3 days, 3 weeks, and 3 months. We highly recommend reading about this - it will help you understand the transition your new pet goes through.
Powered by PetfinderTM