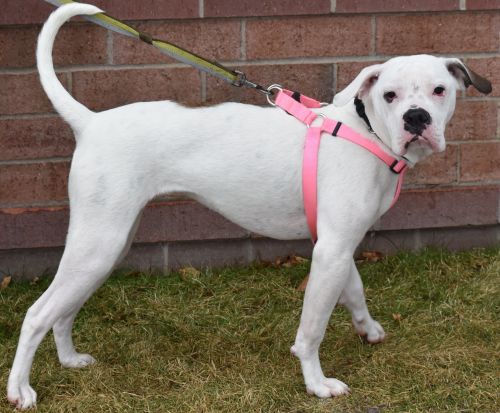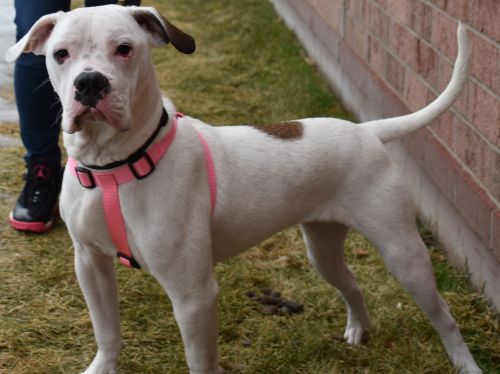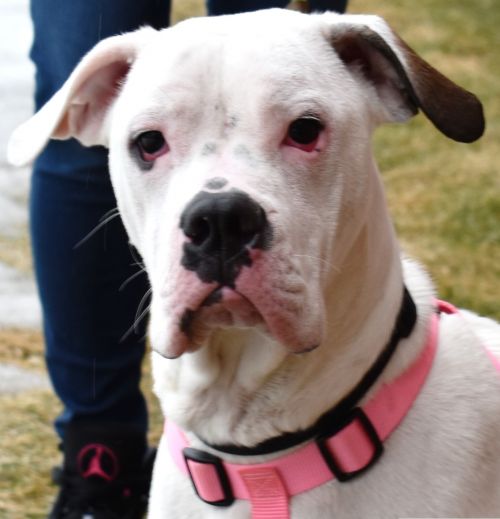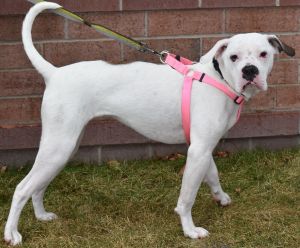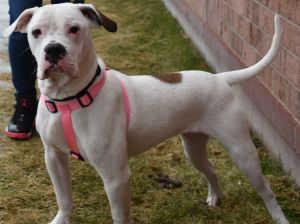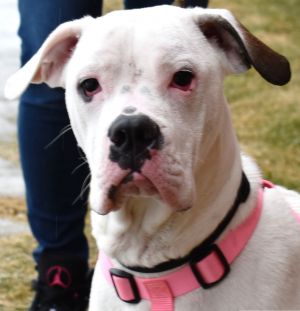 Buttons
American Bulldog
Mixed Breed
If you are interested in any of the dogs available at New Leash Rescue, you can reach out to the foster listed below for more information and then complete an adoption application which can be found at https://www.newleashrescue.org/adopt/policy. Please email the completed application to newleashrescue2018@gmail.com

Buttons is a one year old bulldog mix who came to us to find her forever place! This girl is so happy and a bundle of energy - she needs an active family and a fenced in yard to make sure she can get the time to run around that she needs. Buttons weighs 55 pounds and would be recommended for kids age 7 and up. Her size and energy could knock little ones over.

Buttons was surrendered to a shelter because she had too much energy, and she didn't have another dog to play with so she was looking to her humans for everything she needed. She would chase after the cat in the home. She would love a playful friend to run around with! Buttons does good in a crate, but will make a little noise at times when you're leaving. We would not recommend leaving her free roam in a home until she can fully be trusted, right now she may get bored and chew on things she isn't supposed to. She will need a little housetraining refresher whenever she moves to a new home because the house set up and the routine is different than what she's used to.

Allergies and skin concerns can be common with bulldog breeds, so Buttons needs a family who understands the breed.
Buttons loves other dogs and she loves to play! She is an amazing friendly and happy girl!

Adoption fee is $350.00 (no checks)

Foster to contact: Connie at 612.558.3866 or cctrupka@gmail.com

Please contact the foster to find out if this pup will be attending an upcoming adoption event!

Our fosters do the best they can to provide all information about the animal's background and temperament while in foster care in their home. An adopters routine and home environment is likely going to be different than that in their foster home.

Sometimes there is more that comes out about a dog's personality once they have been able to settle in a home and truly become comfortable. There are great articles out there written about the different stages a pet goes through after adoption, discussing transitions that happen at 3 days, 3 weeks, and 3 months. We highly recommend reading about this - it will help you understand the transition your new pet goes through.
Powered by PetfinderTM