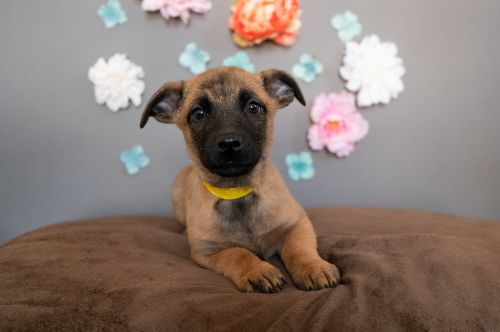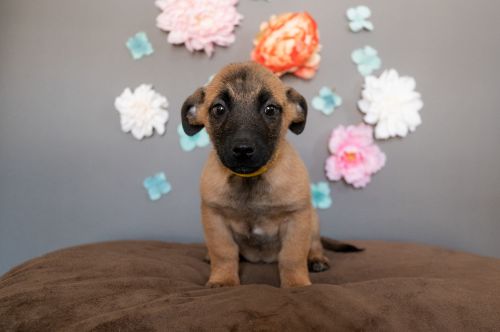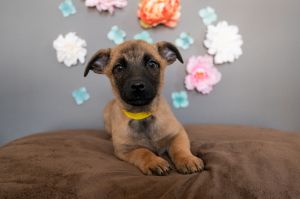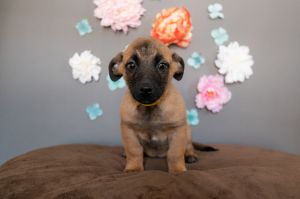 Amarillo
If you are interested in any of the dogs available at New Leash Rescue, you can reach out to the foster listed below for more information and then complete an adoption application which can be found at https://www.newleashrescue.org/adopt/policy. Please email the completed application to newleashrescue2018@gmail.com

These pups are from a litter of 10 pups. They came to us from a reservation, needing rescue when they were 7 weeks old. Cleo, their mom, was found as a stray and was pregnant. A nice lady took her in, but as the pups got older, it was too hard and she needed help and somewhere for them to go. When the pups came to us, they were a little underweight, but LOVE their food and have big puppy bellies and let you know when they are hungry. The pups look nothing like mom and we have no idea who dad is. They are cute little mixes! Mom is around 20 pounds and a wire haired terrier mix and these kids are on track to be around 30 pounds. They are estimated to have been born around 11/15/19. Amarillo has short little legs so dad definitely must have been a low rider :)

All puppies can scratch and play bite, and need families that are committed to training, even though these are small breed pups, they should learn basic obedience just like the big dogs. Small pups do better with someone who is able to be around or let them out more often as they are potty training, because they just can't hold it as long.

Applications are reviewed in the order they are received. Any meet and greets require an approved application.

Adoption Fee includes spay/neuter, three rounds of vaccines + bordatella, microchipping and registration, as well as multiple dewormings, fecal tests/parasite treatment, and they are started on heartworm preventatives.

Adoption fee is $450.00 + tax (no checks)

Foster to contact: Katie - 605-695-5126 (text preferred) or krkallemeyn@hotmail.com

This dog will be at our adoption event on February 29th at the Eagan PetSmart from 11-3 looking for a home!


Our fosters do the best they can to provide all information about the animal's background and temperament while in foster care in their home. An adopters routine and home environment is likely going to be different than that in their foster home.

Sometimes there is more that comes out about a dog's personality once they have been able to settle in a home and truly become comfortable. There are great articles out there written about the different stages a pet goes through after adoption, discussing transitions that happen at 3 days, 3 weeks, and 3 months. We highly recommend reading about this - it will help you understand the transition your new pet goes through.
Powered by PetfinderTM