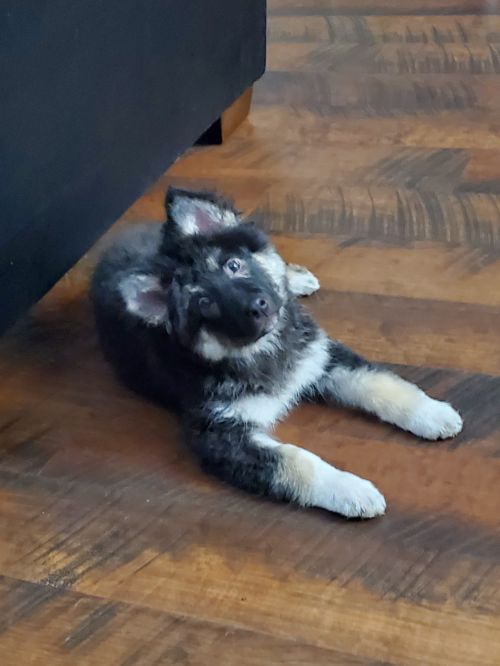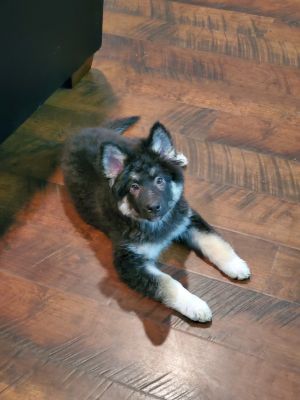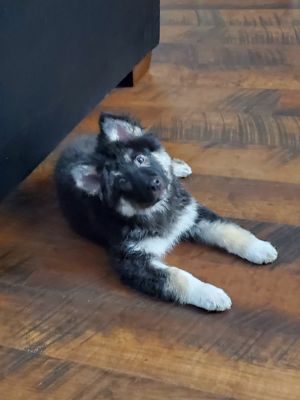 Laverne
German Shepherd Dog
Shepherd
If you are interested in any of the dogs available at New Leash Rescue, you can reach out to the foster listed below for more information and then complete an adoption application which can be found at https://www.newleashrescue.org/adopt/policy. Please email the completed application to newleashrescue2018@gmail.com

Laverne is a special needs pup who is looking for a special home.

Laverne was born 11/30/19 with her littermates but by the time she was a week or two old, she already seemed to be a bit different than them.

Laverne has had a lot of vet care and even consultations with neurologists in her short life and treatment has been started for hydroencephaly or often called water on the brain. She currently receives a small dose of steroids every other day, which is pretty inexpensive. More will be explained about Lavernes medical history to a potential adopter with an approved application.

Laverne's needs/things an adopter needs.to understand about her that make her different:

*she tilts her head more than a regular dog
*she spins in circles when excited
*she's going to likely take more work and time to house train and crate train and requires plenty of patience.
*she squirms a lot when picked up and if someone doesn't have a tight hold might drop her.
*she will protect her food if someone sticks their hand in it, but her foster is trying to work on this as well.

Typical dog things:
*she is great with other dogs (best with dogs that are more her size that she can play with)
*she loves to play
*she's an avid chewer and needs plenty of things to keep her busy.
*requires a fenced in yard
*she loves her people and attention
*very food motivated

Laverne is a girl who has won over many hearts during her time in rescue and is looking for a home that understands how special and loved she is.


Adoption fee is $350.00 + tax (no checks)

Foster to contact: Katie - 605-695-5126 (text preferred) or krkallemeyn@hotmail.com

Our fosters do the best they can to provide all information about the animal's background and temperament while in foster care in their home. An adopters routine and home environment is likely going to be different than that in their foster home.

Sometimes there is more that comes out about a dog's personality once they have been able to settle in a home and truly become comfortable. There are great articles out there written about the different stages a pet goes through after adoption, discussing transitions that happen at 3 days, 3 weeks, and 3 months. We highly recommend reading about this - it will help you understand the transition your new pet goes through.
Powered by PetfinderTM