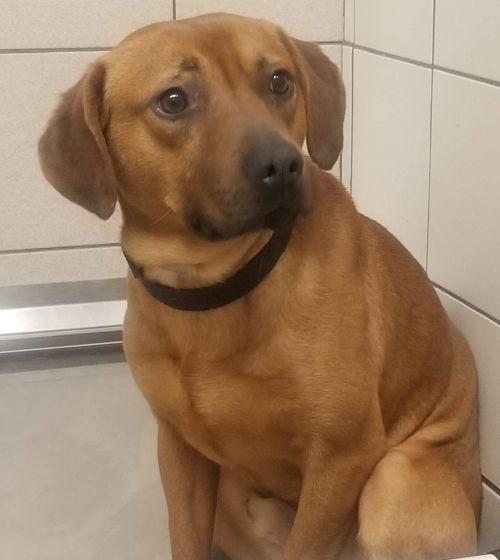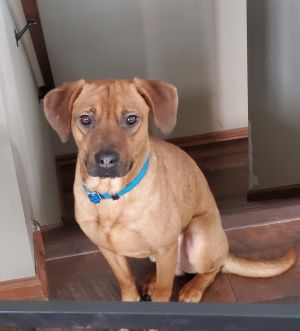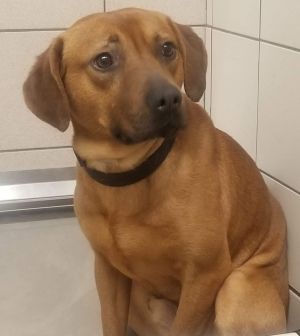 Monty
If you are interested in any of the dogs available at New Leash Rescue, you can reach out to the foster listed below for more information and then complete an adoption application which can be found at https://www.newleashrescue.org/adopt/policy. Please email the completed application to newleashrescue2018@gmail.com

Monty was said to be about 4 years old and a lab mix when we pulled him from a local shelter for not doing well in that environment. He was very scared. We think that he is most likely younger that this. He weighs about 35 pounds.

He has had time to warm up in his foster home and is doing really well! Now he is pretty freely coming up to his foster for attention and pets whereas he was pretty scared to do so for a little while.

Monty needs an adopter who is familiar with scared dogs and will take the necessary steps to keep him safe when he moves to a new home and will give him the time and patience to come out of his shell.

Monty:
*Good with other dogs - another confident dog is required in a new home to help him come out of his shell
*unknown with cats
*physical fenced in yard is required. No invisible fences or apartments/town homes that do not have a fence immediately connected to the building.
*kids recommended age 9 and up as younger kids may scare him initially.
*loves toys and chewing on nylabones
*does well in his crate and will only at times makes a little noise. Will cry at night if his crate isn't in a bedroom knowing that someone is there.
*will need some housetraining work - he has had some accidents in his foster home.
*he can be a chewer if he gets bored.

This boy has come a long way since out of the shelter and it's a wonderful experience to see a shy dog blossom and come into their own!

Adoption fee is $350.00 + tax (no checks)

Foster to contact: Holly - hollyera25@gmail.com or 612-735-8684

Our fosters do the best they can to provide all information about the animal's background and temperament while in foster care in their home. An adopters routine and home environment is likely going to be different than that in their foster home.

Sometimes there is more that comes out about a dog's personality once they have been able to settle in a home and truly become comfortable. There are great articles out there written about the different stages a pet goes through after adoption, discussing transitions that happen at 3 days, 3 weeks, and 3 months. We highly recommend reading about this - it will help you understand the transition your new pet goes through.
Powered by PetfinderTM