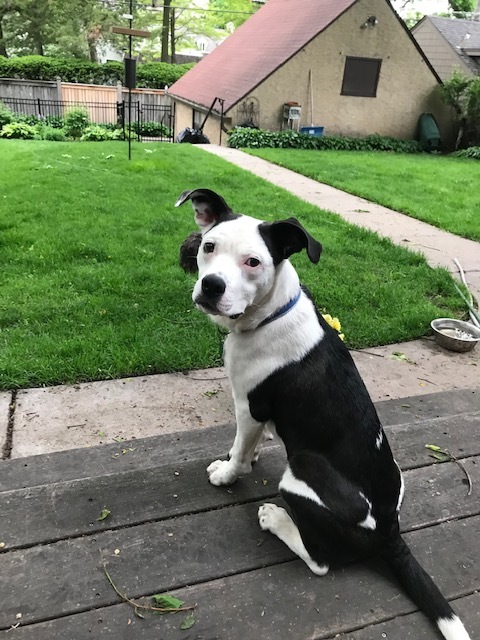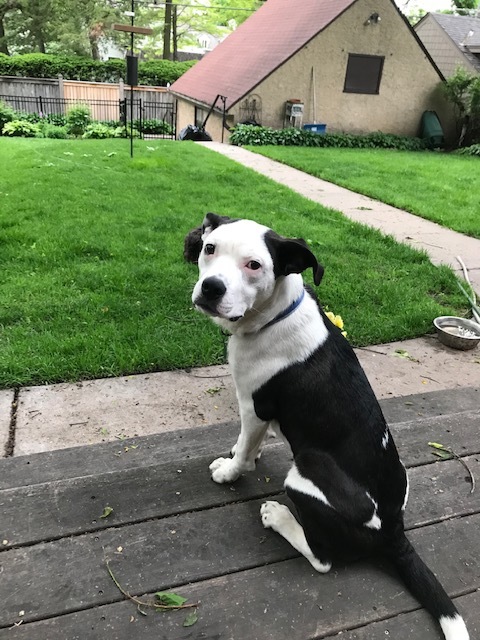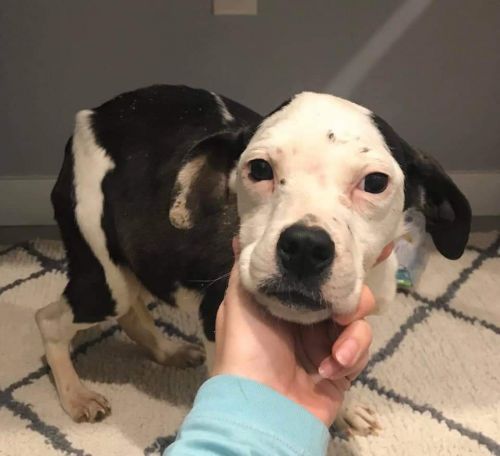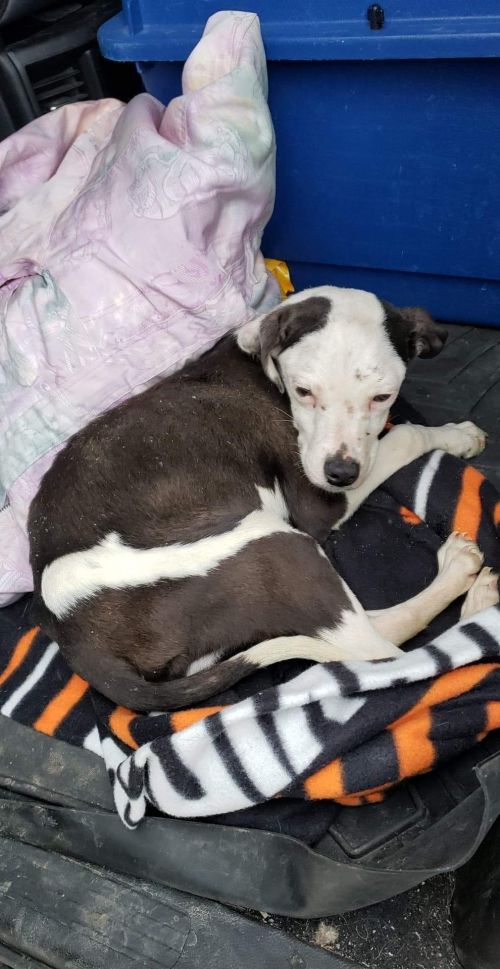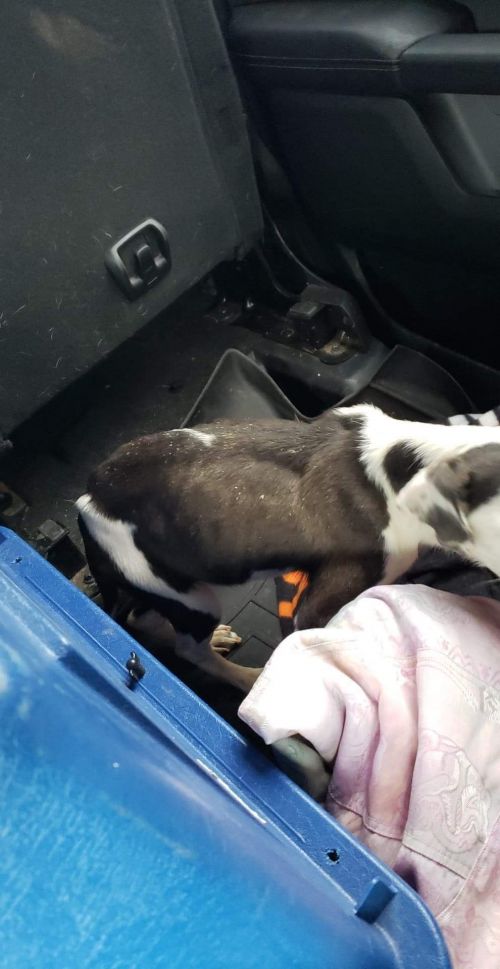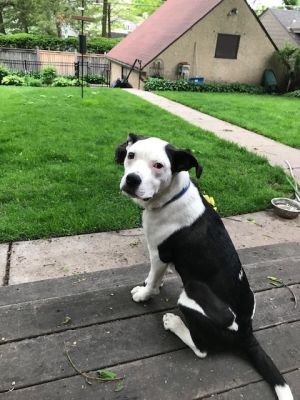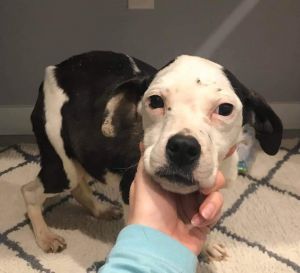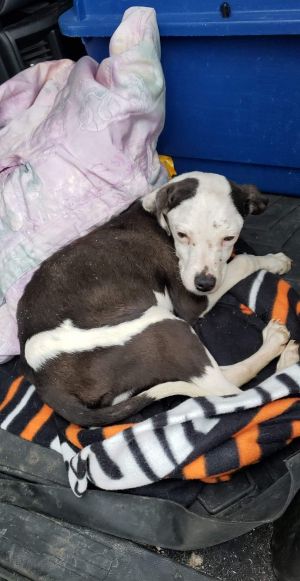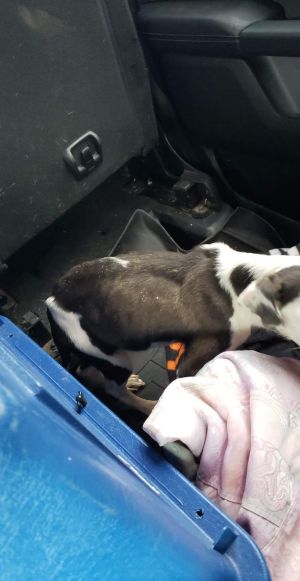 Finley
If you are interested in any of the dogs available at New Leash Rescue, you can reach out to the foster listed below for more information and then complete an adoption application which can be found at https://www.newleashrescue.org/adopt/policy. Please email the completed application to newleashrescue2018@gmail.com

Little Finley.... where do we start? This boy is looking for the right who will understand his past and understand what this boy has all been through in his short life, but who will commit to making it better, and helping Finley grow, and grow more confident as he continues to learn consistency and stability.

Finley is estimated to be 10-12 months old, and he has been in rescue for 2 months now. He is a terrier mix from a reservation - our vet has him estimated to be a boston terrier mix but he is likely a big mix. He has gained plenty of weight and is now about 30 pounds. Finley was found in a garbage bag, weak, emaciated, and struggling. He was very scared at first, and took plenty of time to adjust to a new place, and he was terrified at the vet.

Once Finley got the chance to come out of his shell in his foster home, his puppy ways came out. He can be mouthy and interested in chewing or eating anything in sight. He is protective of his food, but given his past, can you blame him? He does just fine being fed separately from the other dogs in his foster home. It's very easy to feed this guy in a kennel or another room.

Finley is very affectionate once he has had the chance to warm up and he loves to cuddle. He is working on walking on a leash without pulling, but he will need his new family to continue working on this. Finley is very interested in chasing rabbits, squirrels, even bumblebees. He really just wants to catch them! He is amazing at playing fetch and he loves a good game of tug of war. If you give this boy the time he needs to get to know you and your family - he's pretty amazing and resilient.

Finley is afraid of strangers, and needs time to warm up. On a leash, sometimes he is reactive towards things that scare him a bit - strangers, bicycles, etc... he needs a family who is willing to work on training and help him to learn that it's okay - his life is going to be better from here on out. Finley does fine with other dogs at his foster home but he seems uninterested in them, so would likely make a great only dog as well, but he can coexist with other pets and do just fine! Finley does not like the lawnmower, so for your safety as well as his - he needs to be inside when you mow the grass.

The first two pictures are Finley now, the last few pictures are Finley when he was first rescued. He's come a long way!

Adoption fee is $400 +tax (no checks)

Foster to contact: Suzanne - suzannearetz@msn.com

Our fosters do the best they can to provide all information about the animal's background and temperament while in foster care in their home. An adopters routine and home environment is likely going to be different than that in their foster home.

Sometimes there is more that comes out about a dog's personality once they have been able to settle in a home and truly become comfortable. There are great articles out there written about the different stages a pet goes through after adoption, discussing transitions that happen at 3 days, 3 weeks, and 3 months. We highly recommend reading about this - it will help you understand the transition your new pet goes through.
Powered by PetfinderTM