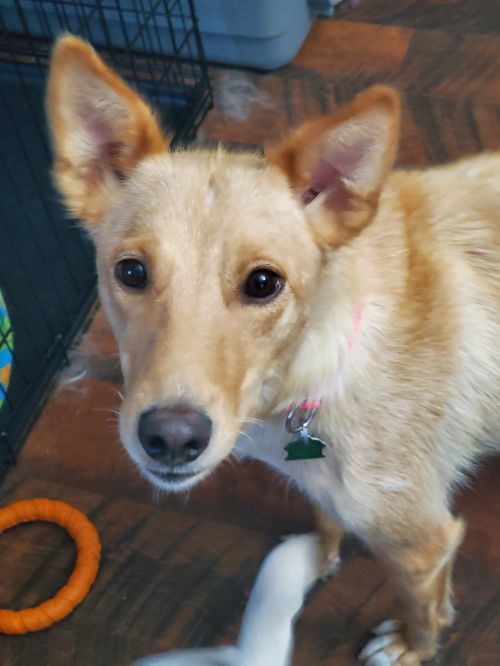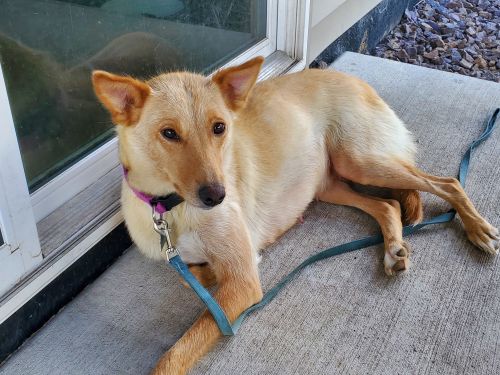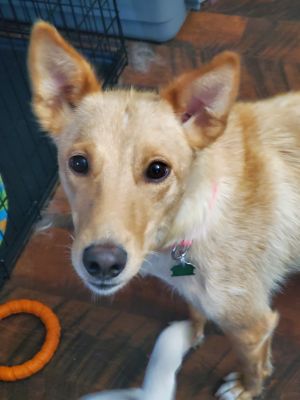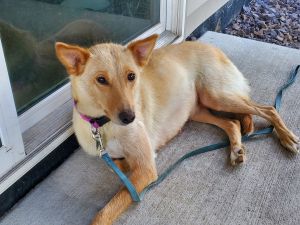 Meadow
If you are interested in any of the dogs available at New Leash Rescue, you can reach out to the foster listed below for more information and then complete an adoption application which can be found at https://www.newleashrescue.org/adopt/policy. Please email the completed application to newleashrescue2018@gmail.com

Meadow was a pregnant stray found on the reservation. She is estimated by vets to be around 5 years old and she's about 50 pounds. She delivered 8 healthy babies the day after she was safe. She is a very shy girl and has been in her foster since April. It took quite awhile when she first came, for her to allow her foster to touch her. She always retreated and tried to get away.

Meadow is still a shy and scared girl, but she has come a long way. She lives with other dogs, and has a fenced in yard, so that helps for her safety (she's not very good on leash yet, especially if there are loud noises or unexpected things.) She follows the lead of the other dogs so she will go outside for potty and come back in following them.

She likes to chew on things, and does well with nylabones. In recent weeks, she has started to play with dogs in her foster home, something she didn't do at all for the first couple months. She is working on her house training but still has some accidents.

Meadow needs a patient and loving home who is willing to let her be a home body and gradually expose her to more things as she warms up and comes out of her shell. This takes time. She would be a flight risk in some cases if people push her too far too fast. We recommend her around kids age 9 and up due to her shyness. Loud, energetic kids and a busy household could scare her. Meadow really needs another dog in her house that she can follow and learn from.

Life on the reservation isn't easy, and often the dogs can come to us and missed out on important socialization when they were younger. It's a rewarding experience to see the shy dogs come out of their shells over time and learn how to be a pretty normal dog.


Adoption fee is $350.00 + tax (no checks)

Foster to contact: Katie - kit_n_caboodle22@hotmail.com

Our fosters do the best they can to provide all information about the animal's background and temperament while in foster care in their home. An adopters routine and home environment is likely going to be different than that in their foster home.

Sometimes there is more that comes out about a dog's personality once they have been able to settle in a home and truly become comfortable. There are great articles out there written about the different stages a pet goes through after adoption, discussing transitions that happen at 3 days, 3 weeks, and 3 months. We highly recommend reading about this - it will help you understand the transition your new pet goes through.
Powered by PetfinderTM